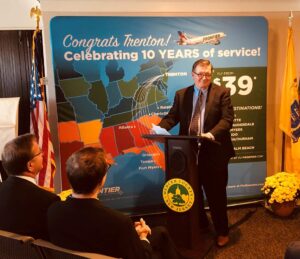 Trenton-Mercer Airport on Nov. 3 marked its 10-year partnership with ultra-low fare carrier Frontier Airlines at a spirited celebration at the terminal's Sky Lounge at Ewing Restaurant.
It was a joyous occasion featuring remarks by Mercer County Executive Brian M. Hughes, Frontier Vice President Daniel Shurz, Congresswoman Bonnie Watson Coleman, Ewing Mayor Bert Steinmann, Mercer Board of Commissioners Chair Nina Melker and Princeton Mercer Regional Chamber President Hal English, all of whom touted the economic importance of Trenton-Mercer Airport and endorsed the county's proposal to build a new terminal to replace the functionally obsolete one.
Frontier, which is the only commercial airline offering scheduled service from Trenton-Mercer Airport, will carry its 6-millionth passenger from the airport later this month.
"We are thrilled to continue our partnership with Trenton-Mercer Airport and celebrate 10 years of operations together," said Shurz. "In cooperation with the outstanding leadership at Mercer County and Trenton-Mercer Airport, we have established a highly successful commercial airline operation and look forward to continued growth together. We currently operate service to eight destinations from TTN and will continue to deliver 'Low Fares Done Right' to area residents."
"This milestone is exciting for Mercer County and Trenton-Mercer Airport," said County Executive Hughes. "Over the past decade, millions of passengers have discovered Trenton-Mercer Airport and have embraced us as a better alternative. We are proud of that designation and we look forward to Frontier Airlines' continued success."
Also highlighted at the event was the reveal of the airport's new brand. Created by Oxford Communications, the new logo is among the ways the airport says "welcome back" to loyal airport users and invites new customers to try the airport, said Aaron T. Watson, Deputy Administrator who oversee Trenton-Mercer. Looking ahead, the airport will soon unveil a new user-friendly website.
Joining the speakers were Commissioner Lucylle Walter, Assemblywoman Verlina Reynolds-Jackson, Assemblyman Anthony Verrelli, County Clerk Paula Sollami Covello, Hopewell Borough Mayor Paul Anzano, members of the trades, local businesses, members of the cheer squad from The College of New Jersey, Trenton Thunder mascot Boomer, Frontier mascot Powder the Polar Bear, airport supporters, passengers and more.
Frontier currently offers service from Trenton to Orlando, Atlanta, Tampa, Fort Lauderdale, West Palm Beach, Charlotte, Raleigh-Durham and Fort Myers (the latter four routes operate on a seasonal basis).
In conjunction with this special milestone, Frontier is offering fares from TTN starting at $39 per person. *For additional information, click here.
***
Photo 1: Mercer County Executive Brian M. Hughes speaking during the Nov. 3 celebration at Trenton-Mercer Airport.
Photo 2: Airport Manager Melinda Montgomery, Frontier Vice President Daniel Shurz and Mercer County Deputy Administrator Aaron T. Watson, flanked by Frontier mascot Powder the Polar Bear and Trenton Thunder mascot Boomer, with the 10th anniversary cake.